As a residency clinic site, Providence Medical Group – Chehalis Family Medicine improves access to medical care and trains new physicians to practice rurally. Since 2014, the Chehalis Rural Training Program provides mentorship and guidance to aspiring family doctors as a residency clinic site.
If you do need to be cared for directly, the doctors do as much as they can in house including procedures like birth control placement, pap smears, skin procedures, lacerations needing sutures, circumcisions, joint injections, toenail removals, mental health treatment and addiction medicine.
Jideofor Ndulue, MD

Dr. Jideofor Ndulue graduated medical school from Nnamdi Azikiwe University College of Health Sciences in Nigeria. His experiences there help him in practicing medicine in a rural area like Lewis County.
"In rural Nigeria, we have a lot of issues with healthcare," he says. "In medical school, I learned how socioeconomic status can be associated with almost every disease. I felt like I would want to be involved in care in places where there is the most need. Even more importantly, to think outside of the box and have gratitude about helping people who really need care."
He applied for the Chehalis Rural Training Program because of the broad-based training and the opportunity to work with the medically underserved population. "I like this area and environment," says Dr. Ndulue. "It was a good fit for me."
While becoming a doctor during a health crisis was not his plan, Dr. Ndulue is familiar with practicing medicine during a disaster. After earning a scholarship to attend Umeå University in Sweden for a Master of Science in Public Health, he worked with the Red Cross and refugees there.
"I went into medicine to learn about illness and how to help and care," he says. "You have some sense of gratitude that people entrust their care from you. I think even in the pandemic, it's satisfying."
When he is not working, he enjoys exploring places nearby with his wife. He plans to continue practicing family medicine in a small town when he finishes residency.
Joshua Gordon, MD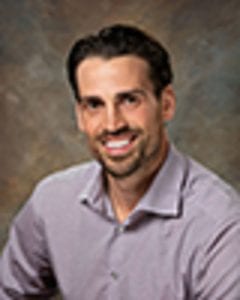 Hailing from a rural area in Northern Ontario, Dr. Gordon is a graduate of the University of Waterloo. He then attended medical school in the Netherlands at Saba University School of Medicine. It was the beautiful area that first drew Dr. Gordon to the Chehalis Rural Training Program after spending a month in Chehalis as a medical student last year.
"The Pacific Northwest is the greatest," he says. "It's a really nice community and there's lots of greenery here. We are outdoorsy people so there's a lot to do and many things that interest me."
It was also the solid training program and the people who make it work that led Dr. Gordon back to the area. "In choosing the program, obviously this is a beautiful and well-supported clinic," he says. "The staff is great. It's a really good environment. We have an in-house pharmacist, so whenever we have questions about medications, there's someone we can directly interact with."
Growing up in a large family, it was his experiences with his family doctor that inspired Dr. Gordon to go into medicine. With a passion for people, he aspires to be the kind of doctor from his childhood.
"We are here to help and do what we can as doctors," he says. "You get attention when you come here because we are new and learning and we are curious."
And while becoming a doctor during COVID-19 has challenges, Dr. Gordon reassures patients both virtually and in person. "With masking all the time and being a bit more cautious, it's a bit more challenging to read physical cues," he says.
"Clinic wise, our response has been really good with masking and cleaning," he says. "It's the same at Providence St. Peter Hospital and Providence Centralia Hospital. The community, for the most part, is good about understanding the need for precautions."
With an awareness of the great need for primary care doctors, Dr. Gordon's future goals include being a rural physician with a full scope practice somewhere in the Pacific Northwest. For now, he and his family enjoy all that the area has to offer.
Angela Shimoda, MD
Earning her undergraduate degree from the University of Minnesota Twin Cities in Minneapolis, Dr. Shimoda attended medical school at the University of Colorado School of Medicine. A Denver native, she intends to provide healthcare to vulnerable populations and is committed to working with the underserved.
For her, it was a similar vibe to her home state of Colorado that brought her to the Northwest. "I like to do things outside so the proximity to all the different awesome outdoor activities and being in a smaller area is very appealing," she says.
Providence's program was an ideal fit. "I really love that this program is a good combination of a rural training program and the opportunities that come with that," she says. "Rural care in general is often an interesting population with a small-town feel. Sometimes there is a greater need for specific care. I like that this program has all those things."
The supportive team in the clinic keeps Dr. Shimoda motivated. "Everyone is really great and willing to help. I heard before coming that everyone just kind of feels like family and it already feels that way. Another great thing is how our schedule is structured – right away we are coming into the clinic every week."
Eager to help, the pandemic reemphasized why she was interested in medicine to begin with.
"We got into medicine to help people and with COVID it's been a reflection on that," she says. "There is a need for providers and I am happy I am in a profession that is directly addressing the pandemic. In the last semester of med school, I felt like I wanted to do more. It feels good to actually be helping the community."
The three great new additions to the team at Providence Medical Group – Chehalis Family Medicine are excited to be in Lewis County, are open to new patients and would love to take care of whole families. They care for the community and advocate for everyone to take precautions and continue to take care of yourself, including seeking medical care.
With the rural residency program, Providence Medical Group continues to expand patients' options while continuously bringing more community-minded physicians to Lewis County.
Providence Medical Group – Chehalis Family Medicine
931 S. Market Blvd.
Chehalis, WA
360-767-6300
About the Author

More Content by Providence News Team