As part of Washington State's COVID-19 vaccination program, Providence began administering the Pfizer and Moderna vaccines to individuals designated in Phase A1, which includes essential health care workers, first responders and residents of long-term care facilities.
While our hospitals continue to operate in this first phase, Providence asks for the community's patience due to the vaccine availability and amount allocated to the hospitals, said Darin Goss, Chief Executive, Providence Southwest Washington.
"This is a marathon, not a sprint," Goss reiterated. "Everyone in our community who wants a vaccine will have the opportunity to receive it, but at this time we continue in Phase A1, vaccinating health care workers and EMS partners in Thurston and Lewis counties."
Goss says there has been many inquiries to the hospital's phone operators and social media accounts about vaccine eligibility and timelines. When the hospital is ready to move into Phase B1, there will be announcements ahead of time to help the community prepare for individuals eligible in that tier.
"We ask at this time for our community to be patient and wait for proactive announcements regarding the vaccine. Please refrain from calling the hospital operators to inquire about the vaccine." Goss added.
View the Washington State DOH's tier program and estimated timeline on their website:
If you think you are in the A1 category and have not yet gotten the vaccine, please have your employer register you through the Thurston or Lewis county public health department.
In Thurston County, eligible individuals in Phase A1 and A2 are asked to schedule their vaccines through their employer on the Thurston County COVID-19 website.
In Lewis County, eligible individuals in Phase A1 and A2 are asked to schedule their vaccines through their employer. Employers may call 360-740-3323 and leave contact information for registration. Additional Lewis County vaccination information can be found on the county's website.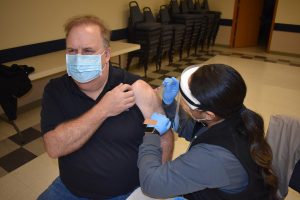 The next phase, Phase B1 includes all people 70 years or older, and all people 50 years or older in multigenerational households. Phase B2 includes high-risk critical workers 50 years or older who work in specific congregate settings, agriculture, grocery stores, K-12 teachers and school staff, childcare, law enforcement and public transit.
As the nationwide distribution continues, the hospital is allocated a certain number of vaccines from the state but assures the community that every individual who wants a vaccine will become eligible throughout the phased plan.
"We are pleased to hear there is great anticipation from those in our community to get vaccinated, however we are still in the early stages of vaccinating frontline health care workers labeled in the 1A group as identified by the state," said Dr. Kevin Caserta, Chief Medical Officer, Providence Southwest Washington. "As our hospitals continue to care for critically ill patients, we ask that everyone continue to wear a mask, social distance, and take necessary cleaning and hygiene precautions."
About the Author

More Content by Providence News Team