The Providence ExpressCare clinic located at 1350 Marvin Road NE Suite D, Lacey is reopening, returning to full-service care on January 22.
The clinic will be open 8 a.m. to 8 p.m., seven days a week, and is ready to care for most patients, including those with COVID-19 and influenza-like symptoms. The clinic also offers rapid COVID-19 testing of symptomatic patients, influenza testing, and influenza vaccination by appointment. Higher acuity issues will continue to be triaged to our Emergency Department.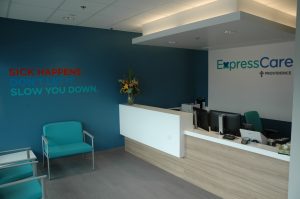 Learn more by visiting their website, or calling 888.227.3312. fd
ExpressCare is well-prepared to safely care for patients in need of same-day care. Following CDC and public health advice, it has established clear guidelines to open safely, including:
Screening all patients over the phone and at entry
Daily screening of all staff and providers
Mandatory masking for all patients, visitors, and staff
Mandatory frequent hand hygiene for all patients, visitors, and staff
Rigorous cleaning protocols and frequent disinfecting of high-touch surfaces
Adapting our site and all spaces to accommodate physical distancing
Ample supplies of personal protective equipment (PPE) to safely perform evaluations, procedures
Signage that prominently displays steps and actions regarding safety
Signage and videos that educate patients on steps to reduce spread of infection
Prior to January 22, patients continue to see a provider virtually. Online visits are available now on their website.
ExpressCare Virtual
Also available to all patients throughout Washington is Providence ExpressCare Virtual, to address many health concerns; as telehealth has helped Providence attend to the health care needs of patients while keeping them safe at home. Virtual visits are available by visiting the Providence website.
About the Author

More Content by Providence News Team